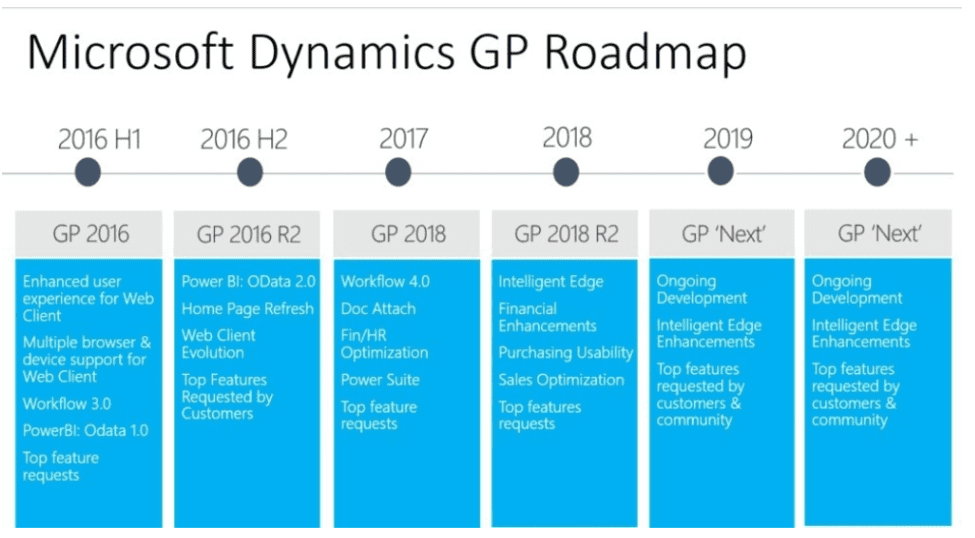 Seems like a million years ago, the roadmap for GP was presented by Microsoft. In fact, Dynamics GP has been around since the mid 1980s, and contrary to some beliefs, it is as strong as ever. With the introduction of Dynamics 365 and the trend of moving to the cloud, many are questioning the future of Dynamics GP.
Well, we are now in 2020 and Microsoft has laid out the plan for Dynamics GP and its many versions for the years to come. In 2019, Dynamics GP was released. Note – Microsoft will be dropping the year attached to the new Microsoft GP releases moving forward.
Microsoft has adopted a Modern Lifecycle Policy for Dynamics GP. This is a change from the past, but remember, change is good! By doing so, Microsoft is showing that they are still committed to GP and will continue to support its users for years to come.
But what does the Modern Lifecycle Policy really mean for you, as a GP user? Well, the major changes users will have to adapt to will be the new update frequency and support structure.
Instead of a large singular update each year, Microsoft will be releasing several smaller GP updates throughout the year. There will be a mid-year update around June or July addressing any regulatory changes for the year, a feature update in October that will introduce new features for GP users, and year-end updates in November (US) and December (Canada). This lifecycle shows beyond any end date we currently have for Dynamics GP and will continually be updated
With the Modern Lifecycle Police, there is no Mainstream support or Extended Support in the next 5 years. GP users are encouraged to stay current with their releases and apply at least 1 update per year if possible. However, if you are on the following versions below, you will be subject to the previous lifecycle and Microsoft's sunset dates. The new modern lifecycle does not apply.
| | | |
| --- | --- | --- |
| GP Version | Mainstream End Date | Support End Date |
| GP 2015 | 4/14/2020 | 4/8/2025 |
| GP 2016 | 7/31/2021 | 7/14/2026 |
| GP 2018 Version 18.00.0727 and prior (pre Oct 2019 release) | 1/10/2023 | 1/11/2028 |
Once an existing GP 2018 customer installs the new release of October 2019 or applies the 2019 November/December year end update, they will be on the Modern Lifecycle.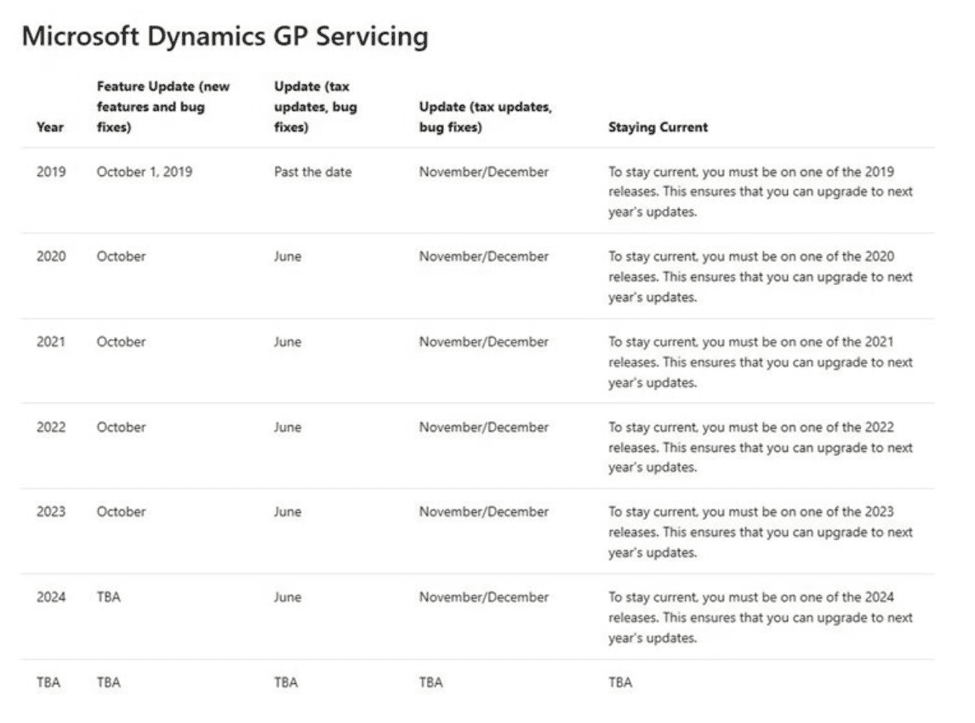 If you have any questions about the new Modern Lifecycle Policy or Dynamics GP, don't hesitate to reach out to a KTL Solutions consultant. KTL has a team of consultants that are readily available to provide our expertise. As a Microsoft Gold-Certified Partner, we take pride in our consultants' broad knowledge on a range of technology solutions in different industries.