There are 100,000+ Microsoft Partners in the United States alone, it can be difficult for customers to decide on which partner to work with. Customers can narrow down their partner selection by physical location, industry vertical, workforce capabilities and competency record. Microsoft introduced its competency program to all its partners to showcase the organizations that are consistently delivering both high-level solution expertise and technical capabilities to customers.
Out of the hundreds of thousands of Microsoft partners, a slim percentage of partners have obtained these competencies from Microsoft. Therefore, when customers are searching for new partners to work with, Microsoft recommends working with partners that have competencies and a proven track record.
Microsoft offers competencies in 4 focus areas and 17 specific categories within these focus areas:
Applications and Infrastructure:
Application Development
App Integration
Cloud Platform
DevOps
Datacenter
Business Application
Cloud Business Applications
Enterprise Resource Planning (ERP)
Cloud Customer Relationship Management (CRM)
Data and AI
Data Analytics
Data Platform
Modern Workplace
Collaboration and Content
Communications
Cloud Productivity
Enterprise Mobility Management
Messaging
Project and Portfolio
Security
Small and Midmarket Cloud Solutions
Each category has a specific set of skills and performance requirements partners must meet to obtain either silver or gold competency. According to Microsoft, a Silver Competency indicates that the partner delivers "consistent capability, expertise, and commitment" while a Gold Competency indicates that the partner delivers "best-in-class capability within a specific Microsoft solution area."
As a Microsoft partner for 20+ years, KTL Solutions is one of the few partners that possess multiple competencies. Our team has proven to provide best-in-class services in each of the 4 major focus areas set by Microsoft and we are continuing to obtain additional competencies to better serve our clients.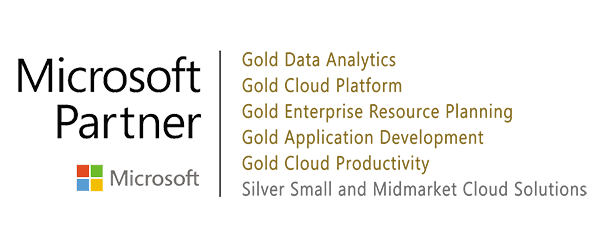 With our proven competencies in Data Analytics, Cloud Platform, Cloud Productivity, ERP, App Development, and Small and Midmarket Cloud Solutions, KTL can best help customers:
Transform your data into actionable business insights.
Assist you in making data-driven decisions.
Modernize your infrastructure and migrate to the cloud.
Build customized applications to meet your business needs.
Utilize the best productivity solutions – Dynamics 365, Office 365, Microsoft 365 & Power Platform.
Work from anywhere with one of the most productive and secured cloud solutions.
We pride ourselves in our broad knowledge on a range of technology solutions in several different industries. If you are interested in learning how KTL's decades of experience can help support your organization, schedule a complimentary initial phone consultation with us today.